Control Components
The Knorr-Bremse subsidiary, Microelettrica Scientifica (MS), produces AC&DC contactors and disconnectors, resistors and electronic devices for both industrial and railway applications.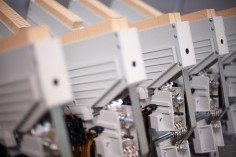 The products for the railway market include the following features. Four ranges of contactors and disconnectors operating up to 4 kV, for loads from 50 to 2000 A per pole. Resistors include brake, damping, snubber, filter, charging and discharging resistors. Electronic products are high voltage transducers for line voltage and current measurement and energy metering function, to be used both on board of vehicles and in DC substations.
Resistors
Controlled and safe braking - Rheostatic braking allows the vehicle's kinetic energy to be dissipated electrically, preserving mechanical brake consumption with non-receptive lines or with diesel electric traction. The energy is dissipated into heat via brake resistors.
Contactors
Contactors are able to open and close under load conditions. Nowadays they are used to connect and disconnect high power traction converters, auxiliary converters, auxiliary circuits (heating, climate control, compression, lighting, magnetic brakes).
Disconnectors
Disconnectors are mainly used in multi-system locomotives to change the configuration of the traction circuit when the catenary voltage changes. The devices operate at no load and are also used to disconnect a failed device if necessary.
Integrated Functional Units
Different contactors and disconnectors are supplied already assembled on a structure. In this way customers do not have to worry about installing several components on a vehicle: it's simply a matter of inserting the whole assembly in its own cubicle and tightening some screws. For example, all the traction circuit switchgear can be part of just one LRU. Such a solution helps also in case of maintenance: a LRU is removed from the train in a short time and is replaced with another assembly, to speed up processes. Then, the removed LRU can be quickly checked and revamped in the workshop.
High Voltage Transducers
On-Board High Voltage Metering Transducers are designed for railway traction application and conform to the environmental and electrical conditions established by reference standards. The devices, directly linked to the pantograph, identify the power distribution network system and convert the high voltage electrical measurements to analogical signals at standard low voltage level and relay codification.
DC High Speed Circuit Breakers
The main purpose of High Speed Circuit Breakers is to protect an electrical (power/auxiliary) circuit from failures to ground as they are designed to immediately discontinue electrical flow anytime a short circuit occurs. High Speed Circuit Breakers are also able to close under normal load conditions or to insulate traction units when not in service.